Application Sites
Application Directions
Follicular Monitoring, Prostate / Pelvics, Uterus, Bladder / Urinary Function.
Specification
| | |
| --- | --- |
| Model | D5CE |
| Display | Phone or tablet screen |
| Probe Type | Convex array + Transvaginal array |
| Scan Angle / Length | Convex 60, Linear 40mm |
| Frequency | Convex probe 3.5/5.0 MHz, Linear probe 6.0/8 MHz |
| Scan Mode | B, B/M, Color, PW |
| Display Depth | Convex 90~305mm, Transvaginal 40~100mm |
| Image Adjust | Gain, Depth, DR, Focus, SRI, Harmonic |
| Measure | Length, Area, Velocity, HR, S/D, Obstetrics, Auto Blood Vessel Measurement |
| Puncture Assist Function | In-plane puncture guide line, out-of-plane puncture guide line, needle enhance |
| Image Frame Rate | 20 frames / second |
| Cinplay | >50s |
| Power | Built-in lithium battery, wireless charge 2h, work 2.5h |
| Working System | iOS, Android, Windows |
| WiFi Type | 802.11n / 2.4G / 5G |
| Dimension | 270x60x20mm |
| Weight | 300g |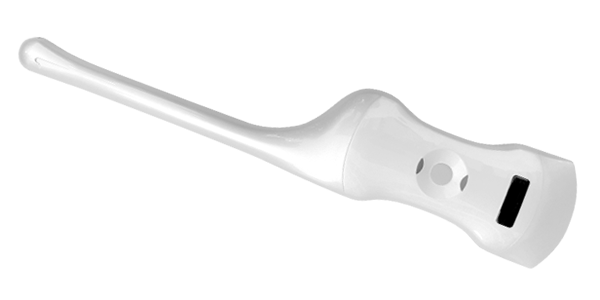 Special For OB/GYN
Composed of two probes, a scanner can complete surface and vaginal examination as your choice.
Small and light, suitable for bedside operation and monitoring.
Wireless, by using the disposable protecting cover, it can easily solve the sterilization issue of the probe.
See The Difference Great Image Quality Makes
Easy To Use
On iOS and Android
You can do it easily, even if you're not an ultrasound professional. Just follow:
Start scanning within 1 second of starting the handheld ultrasound scanner and launching the microVue App.
Choose from AI-powered presets for instant adjustments to get a good image. Scanning with SonoHealth scanner is like using the camera app on your phone.
Slipe left and right to change scan modes, gain, slide up and down to change depth, and more.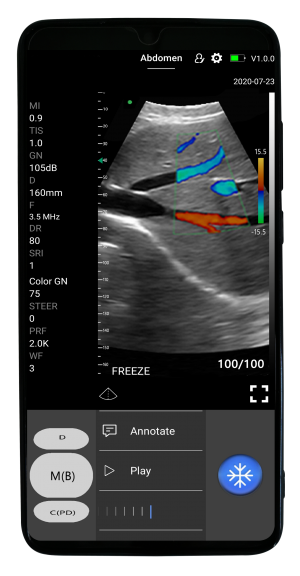 How It Works
We condense the main unit into a small circuit board builded-in the probe, small and light,and showing image on app installed in smart phone/tablet through Wifi(internal wifi from probe, no need external Wifi signal)or USB transferring.
Make ultrasound easier and more efficient to use.
Provide visual images during any clinical procedures.
Waterproof
Full sealing design: it can be short soaked and disinfected, beneficial to strengthen infection control.
Reduce medical accidents caused by cross infection, protect you and patients, and reduce hospital related expenses.
More Images Of SonoHealth Handheld Ultrasound Scanner
Request For Quotation
Please leave a message to us, we will contact you within 24 hours, thanks.